BMW has introduced the world's first bulletproof electric vehicle — BMW i7 Protection — certified and evaluated in the VR9 resistance class.
At the heart of the i7 Protection is the BMW Protection Core, a model-specific self-supporting body structure made of armored steel. This core is combined with additional strong armor for the underbody, roof, and armored windows, achieving the second-highest classification in resistance and bullet resistance classes after class 9.
The VR9 resistance class ensures that the vehicle's armor can withstand military projectiles up to 7.62 × 51 mm ("NATO") and projectile energy of up to 3,289 joules. This is not just a car; it's a shield on wheels that supercharged the electric power. This makes it suitable for heads of state, leading politicians, diplomats, and prominent people who require a particularly high protection class.
The i7 Protection is powered by a drive consisting of one electric motor each on the front and rear axles, developing a system output of up to 400 kW (544 hp) and a system torque of up to 745 Nm. Despite the additional weight of the armor, it accelerates from 0 to 100 km/h in 9.0 seconds, with a top speed electronically limited to 160 km/h.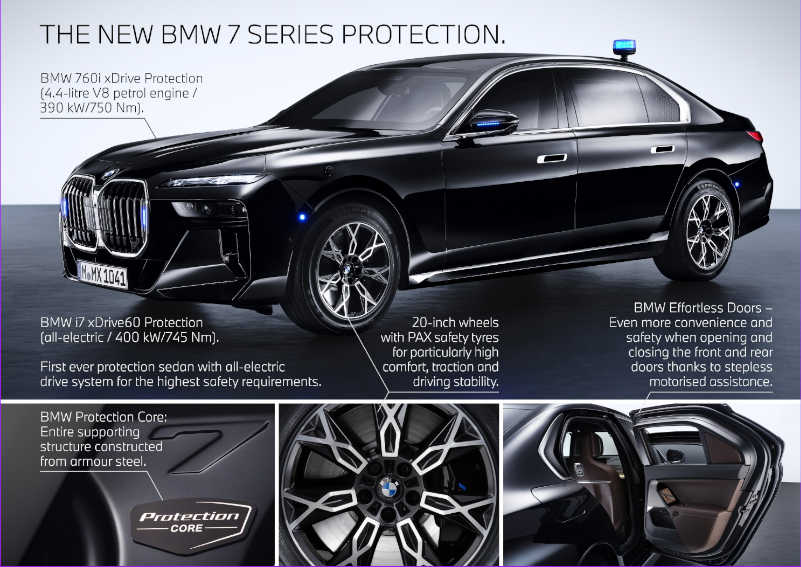 Thanks to the PAX tires and emergency rings applied to the rims, the BMW i7 Protection can guarantee continued driving at up to 80 km/h even if there is a complete loss of pressure.
The i7 Protection is equipped with a self-sealing tank that prevents fuel from leaking and causing a fire after sustaining damage. The windows are equipped with protective glass classified VPAM 10, the highest level of protection for civilian populations. It can resist large caliber impacts and guarantees resistance to explosives.
The i7 Protection is not just about safety; it's about luxury. The interior offers a wide range of apps, telematics, comfort, and entertainment. The 31.3-inch 8K panoramic touchscreen television almost covers the entire cabin, ensuring that passengers travel in style and sophistication.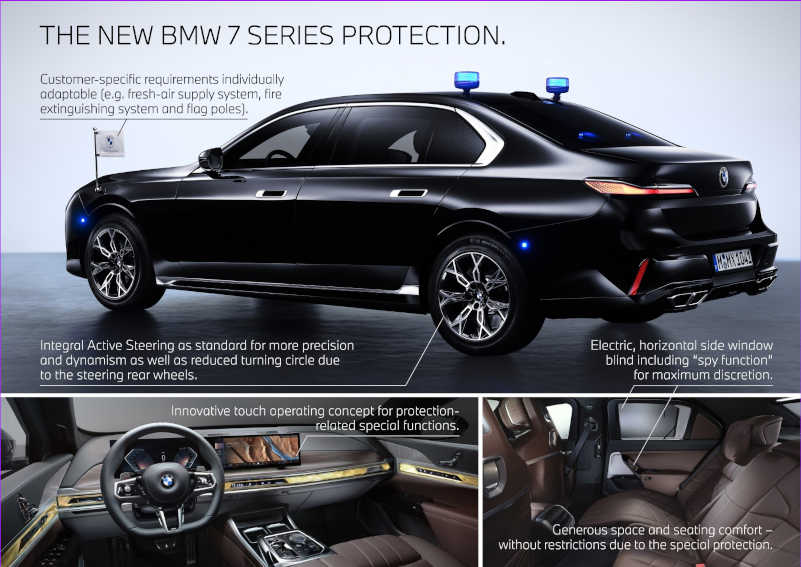 Scheduled to be presented to the world at the IAA Mobility 2023 in Munich, the BMW i7 Protection showcases BMW's 45-year expertise in manufacturing security vehicles.