After months of teasing, Lamborghini has finally unveiled its off-road supercar, the Huracán Sterrato, at Art Basel Miami.
Lamborghini Huracán Sterrato is arguably the most aggressive version of its eight-year history. The final product looks very much like the rally concept that Lamborghini first unveiled in 2019.
The automaker's designers have raised the standard Huracán's ride height achieving 44mm ground clearance, added nose aux lights, roof rails, carbon fibre fender arches and a custom 19-inch wheelset with Bridgestone all-terrain run-flat tires. The inclusion of a central air inlet in the roof allows the engine to breathe, which is especially important in dusty areas. Aluminium underbody panels also help protect the powertrain and other critical hardware in the unlikely event of an accident.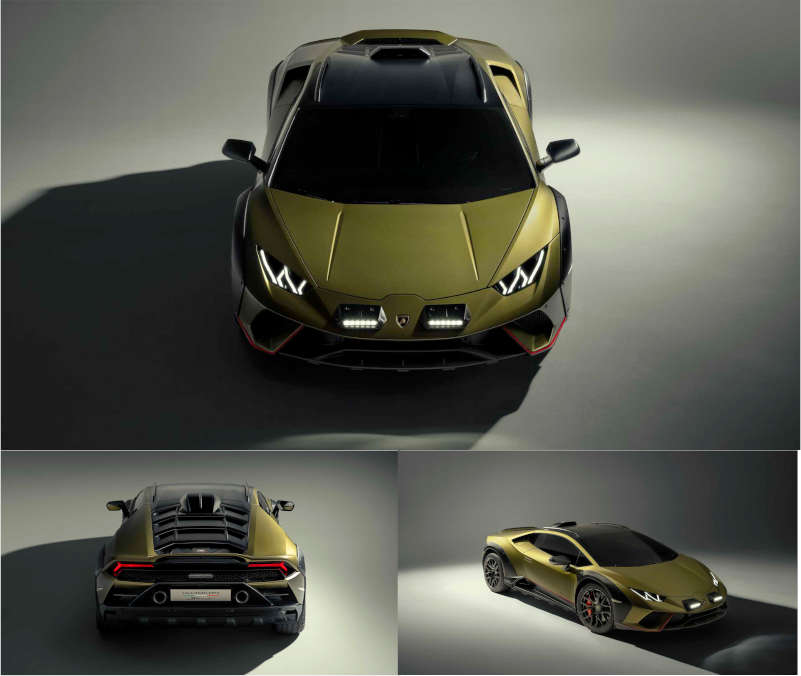 In addition to looks, the Huracán Sterrato seems to have no problem with off-road driving. The 5.2-litre V12 engine installed in the engine room will be the company's last pure combustion engine. Combined with a 7-speed dual-clutch transmission, it sends power to all four wheels, generating a maximum output of 602 horsepower and a maximum torque of 560 Nm. The maximum speed is 260km, which is reasonable considering that it is an off-road specification.
Other useful features on and off-road include the suspension, which has been lifted by 1.7 inches. The higher ride height means more suspension travel and more terrain you can run on. It also features an updated version of Lamborghini's integrated vehicle dynamics system, which, like the Urus Performante, includes a rally mode that makes driving in low-grip conditions easier. This mode also makes drifting easier, which many drivers will appreciate. Braking is equipped with a 15-inch brake with a 6-piston calliper at the front and a 14-inch brake with a 4-piston calliper at the rear.
Only 1,499 Huracán Sterratos will be built, so expect to sell out quickly. Pricing hasn't been announced yet, but it's expected to be around $270,000. Deliveries are expected to start in the first half of 2023.